Best Shoes for Wide Feet Reviewed & Rated for Comfort
If you have ever tried on shoes and found that they feel extra tight, or pinch your skin? Then you may need to start buying shoes that are sized specifically for wide feet.
Whether your feet are naturally wide, or you have a foot condition that affects your sizing, purchasing a pair of wide or extra wide shoes can ensure that you get a pleasant wearing experience that doesn't involve discomfort or pain. All feet are shaped differently, so it is important to consider your exact measurements before purchasing, in order to buy the perfect pair of shoes.
If you have feet which are wider than average, you may be tempted to size up, but this is not always a good choice as the excess room in the length of the shoe can lead to rubbing and chafing. Instead, you should look for shoes that are offered in a wide size. There are many shoemaking companies that offer wide shoe options, and there are choices for everyday shoes, dress shoes, running shoes, etc. If you need that little bit of extra room, read on to see our selection of the top 15 shoes for wide feet currently on the market.
Easy Spirit Traveltime

Our rating
Orthotic friendly
Slip on design
Price:

See Here
Crocs Classic

Our rating
Roomy fit
Massaging footbed
Price:

See Here
Clarks Breeze Sea

Our rating
Synthetic Outsole
Adjustable Thong
Price:

See Here
10 Best Shoes for Wide Feet
Easy Spirit Traveltime
When you're looking for something
comfortable to slip-on
, the Easy Spirit Traveltime Mule may be just what you're after. This shoe is available in a variety of sizes, including many options for those with wide sized feet. Numerous color combinations mean you can find the right shoe for whatever outfit you want to wear. Available in both wide and extra wide sizes, so you can find comfort no matter your foot shape.
Expand to see more
Extended Widths & Orthotic Friendly
Finding shoes for wide feet can sometimes feel like a chore, but Easy Spirit has designed their line of shoes to fit a variety of feet. Designed with the width in mind, these shoes maintain a sleek look and shape, that supports and comforts your foot. With no bulk, these shoes can be slipped on and give you comfort throughout your entire day.

Slip On Design
Keeping life uncomplicated, these shoes can easily be slipped on, and do not need to be laced at all. If you're on the go, throw these on to quickly get out the door and make your day a bit more hassle-free. The design keeps these mules flexible, and the rubber outsole ensures that your foot is solidly supported and that the shock your feet suffer from each landing is well absorbed.

Cost and Value
Finding well-crafted shoes for under $50 is a great deal, and that's what you can expect with the Easy Spirit Traveltime Mule. Since this is a line of shoes focused on providing width, you will be happy to find that the wide options cost the same as those intended for regular or narrow feet. For both comfort and convenience, these shoes are worth the price and are easily one of the cheaper options on this list.
Lightweight & Comfortable
Removable Sock Liner
25 Color Options
Wide & Extra Wide Sizing
Rubber Outsole
Machine Wash Not Recommended
Lack Arch Support
Crocs Classic
Crocs clogs may not be appropriate footwear for most occasions, but what makes them a particularly good choice for those with wide feet is the roomy fit they offer. When wearing a pair of Crocs, your foot should fit inside the shoe so as not to touch any part of the upper, which ensures that no unnecessary pressure is put on the soft spots of your wide feet that may be bothered by most other shoes.
Expand to see more
Easy to Maintain
Being completely made out of synthetic materials, Crocs are really easy to keep clean. They are water friendly with a non-slip outsole and are made out of an odor-resistant material that won't develop smells even with prolonged use. If you found that your pair has gotten dirty, you can just hose it off and it will be ready to wear in no time.

Cushioned Support
Crocs clogs are made out of a material called Crosslite which has great cushioning abilities, keeping you comfortable even if you plan on spending several hours standing and walking. An anatomically shaped footbed hugs your arch, while a massaging footbed improves your overall experience.

Cost and Value
Being the cheapest item on this list, Crocs clogs are great investments. While you may not be able to wear them to many places, seeing that they are the most casual of shoes, they are great for home, beach, garden or outside use.
Roomy Fit
Heel Strap Can Be Used Or Folded Forward
Massaging Footbed
Non-Slip Outsole
Inappropriate For Any But The Most Casual Occasions
Can Feel Clunky Or Big
Clarks Breeze Sea
The Clarks Breeze Sea flip-flop is a stylish
sandal built with casual walking in mind
. It comes with a misdole stripe to cushion your footfalls and comes in medium width sizes. It's not the widest sandal out there, but it's much wider than a narrow shoe. It's a sandal, so it has more space for your feet than a sneaker.
Expand to see more
Synthetic Sole
When you are out in your flip-flops, you don't want to slip and fall. The synthetic sole on these flip-flops will protect you from slipping and falling on your walk.

Adjustable Thong Strap
The thong strap on the Clarks Breeze Sea flip-flop is adjustable, so you can use the hook and loop closure to tighten or loosen the straps for a comfortable walk.

Cost and Value
You can find the Clarks Breeze Sea flip-flop in the low-to-middle price range. It's quite reasonably priced for a high-quality flip-flop. The customizability of the strap is a bonus.
Synthetic Outsole
Adjustable Thong Strap
Midsole Stripe
Comes In Medium Width Sizes
EVA Midsole & Footbed
Cushioning May Wear Down
Poor Arch Support
New Balance MX608V4
If you are looking for a wide training shoe that offers both comfort and practicality, then the MX608V4 by New Balance is a great option to check out. With over 20 color options, you can get a great looking shoe that meets your active needs.
New Balance is known for their athletic footwear
, so if you're an athlete with wide set feet, know that the MX608V4 will give you a roomier shoe for you to perform your best in.
Expand to see more
Abzorb Rubber
This specific rubber manufacturer has crafted a rubber sole that provides extra cushioning and compression, giving your shoes the ability to properly absorb any impact. This is crucial if you train on a variety of terrains, as no surface will be too hard or difficult for running or moving.
Cushioning and Support
With extra arch support, these shoes are comfortable
no matter how high or low your foot is
. Extra padding within the shoe ensures that the foot is securely cushioned and for those with heel issues, you may find that the extra support is useful on the heel.
Cost and Value
Compared with other styles offered by New Balance, this specific model is price effective and cheaper than a lot of other options on our list. The training shoe market can be very expensive, so if you are on a budget then you may find that the MX608V4's are the best choice for you.
Pull Tab On Heel
Breathable Lining
Abzorb Rubber
Thickly Cushioned
Can Run Smaller In Size
No Memory Foam Insole
Alegria Paloma
The Alegria Paloma is a sturdy, stylish
Mary Jane style shoe
. It's designed to look nice and protect your feet from injury. It even comes with features built in to ensure that your feet are comfortable for extended periods of wear. You can find this shoe in a variety of colors, making it easy to match it with your favorite outfits.
Expand to see more
Rocker Outsole
The Rocker Outsole is designed to roll naturally with your foot as you walk. This gives you greater stability and better posture while also reducing painful pressure on your feet.

Extra Depth
The Alegria Paloma Flat is deeper than other Mary Jane style shoes, giving your forefoot and toes a little extra space so they won't be scraping against the leather upper.

Cost and Value
You can find the stylish Alegria Paloma Flat in the middle-to-upper price range, but the durable and sturdy construction of this shoe makes it worth some of the higher prices.
Rocker Outsole
Extra Depth
Leather Upper
Low Platform
Cushioned Flatform Sole
Leather Insole With Arch Support
Sizing Runs Small
Leather Upper Is Inflexible
Skechers BOBS
If you have ever wanted to
wear your slippers all day
, every day, then BOBS by Skechers might make your dreams come true. These slip-on style fabric shoes are woven to ensure breathability and flexibility while maintaining both comfort and durability overall. With extra wide options available, these shoes will be comfortable no matter what size foot you have.
Expand to see more
Memory Foam
With a built-in memory foam insole, you can be sure that your foot will be both supported and comforted throughout the day. Don't get home with weary feet, and instead let the insole absorb the pressure from standing and walking.

Well Made
No one wants to buy a pair of shoes just to have them ruined within a few uses. BOBS are made to last, and the material is strong and durable so that you can use them over and over again without issue.

Cost and Value
BOBS are extremely affordable, especially given how well-crafted they are. Compared with other shoes that we've listed, these are right in the middle price wise. When it comes to comfort and versatility, you cannot go wrong investing in a pair of BOBS.
Memory Foam Footbed
Hassle Free Slip On
Flexible Canvas Material
Sturdy Rubber Outsole
Machine Washable
Memory Foam Flattens Over Time
Bottom Can Be Slippery
Birkenstock Mayari
Birkenstock shoes are made with anatomical properties designed to offer the support and space you need, especially if you have wide feet. They come in two options - narrow and medium - both of which feature a very roomy toe box. These sandals have a leather upper that is lined with soft suede and that is meant to break in and stretch over time, giving you a pair of sandals that is molded after the shape of your foot.
Expand to see more
Adjustable Upper
The upper of these sandals are adjustable for both straps through the two buckles that can help you find the most optimal fit for your foot shape. This is especially beneficial for those who, in addition to a wide foot, also have a high instep.

Anatomically Shaped Cork Footbed
The cork out of which the footbed of these shoes is made is anatomically shaped with plenty of arch support, a toe grip tab that helps a natural gait cycle and a deep heel cup to promote a proper posture and prevent overpronation.

Cost and Value
With a price that ranks above average on this list, the Birkenstock Mayari is a pair of shoes that requires an initial investment, but that is definitely going to pay off. One of the great things about these sandals is that they get better with time, and can even be repaired or resoled after you've had them for a few years.
Leather Upper
Cork Footbed
EVA Outsole
Plenty Of Arch Support
Roomy Toe Box
Deep Heel Cup
Adjustable Straps
Can Be Repaired Or Resoled
Fit Takes Time Adjusting To
Won't Do Well With Water
Skechers Afterburn Strike
These lace-up walking shoes have the look of running shoes, with the comfortable feel of walking shoes. Ranging all the way up in size to a 4E (which is extra wide), you should be able to confidently find a pair that is designed to fit your foot with ease. The multiple color options allow you to find what best suits your personality so you can look as good as they feel.
Expand to see more
Thick Soles
The thickness of the soles is very important when walking, as it provides the tread needed to keep you stabilized and gripped to the ground. When you're walking about, you don't want to be slipping and sliding, and the Skechers Afterburn Strikes have gone above and beyond in creating soles that grip "like tire treads".

Memory Foam Insole
Nothing is more important than comfort, and when it comes to shoes this rings extra true. Being on your feet for hours means your feet get weary and tired, so it is important to find wide shoes that go the extra mile. These memory foam insoles provide a cushioned bed of comfort that will ease the stress on your feet and make you forget you're even wearing shoes at all.

Cost and Value
Cost wise Skechers tend to be very middle ground, and tend to stay under $100 per pair. As this is a reputable shoemaking company, you can be confident that the shoes will be well made and durable, giving you your money's worth over time. On this list, these shoes are one of the more expensive options, but if comfort is what you want, then these will be a worthy investment.
Thick Outsole
Memory Foam Insole
Extra Wide Options
Non-Slip
Multiple Color Options
Sizing Runs Large
Foam Insole Can Be Slippery
Brooks Ghost 11
The Brooks Ghost 11 is the latest in the Ghost series. This is a lightweight, well-cushioned shoe designed with athletes in mind. It comes in extra wide sizes.
This shoe sports strong arch support
, a plush tongue, and collar, as well as a soft fabric lining to maximize your comfort on your run, at the office, or on a walk.
Expand to see more
Synthetic-and-Mesh Upper
The synthetic and mesh upper design of the Brooks Ghost 11 is lightweight and breathable without sacrificing durability for comfort. The mesh parts are extra flexible, giving you a more comfortable run.

Removable Foam Insole
The removable foam insole is a well-cushioned and can be removed in case you have custom orthotics that you want to put in your shoes. This athletic shoe offers more freedom and customizability than most other running shoes on the market

Cost and Value
The Ghost 11 rests solidly in the upper price range, but it's not so expensive that it would break the bank. If you opt to get this pair of shoes you will find that you've made a solid investment that is sure to keep you comfortable and happy for a considerable period of time.
Synthetic & Mesh Upper
Removable Foam Insole
Soft-Blown Rubber Outsole
Medium To High Arch Support
Plush Tongue & Collar
Sizing Runs Small
Upper May Wear Down Quickly
Predictions Karmen
Having wide shaped feet doesn't mean you need to condemn yourself to only wearing bulky and drab shoes. The market is full of gorgeous options that are made to include a range of widths; one of those is the Karmen Pump. With a 3 inch heel, you can throw on these for work, parties, or just to spice up your wardrobe.
Expand to see more
Memory Foam Insole
One of the worst things about heels is their ability to make your feet sore over the hours you wear them. The Karmen Pump counters that soreness by including a built-in memory foam insole that will give your foot some comfort and relief as you stand and walk.

Comfortably Wide
When it comes to wide feet in heels, you run a high risk of wearing shoes that are both uncomfortable and cause chafing. These heels make sure to give you enough space that your feet have the freedom to breathe and relax, letting you enjoy your day or night in them.

Cost and Value
The Karmen Pump ranks average on this list when it comes to price. It's an investment definitely worth making as you get a pair of beautiful shoes that are not only wide enough not to irritate your feet but also includes added comfort features to make your experience a truly great one.
Memory Foam Insole
Soft Lining
Arch Support
True To Size
Scuffs Easily
Thin Plastic Exterior
When choosing shoes for wide feet, it is important to remember that there are lots of options on the market, and you don't have to settle just because of your foot size. Do your research and find the style that suits your needs and personality, and know that there are styles and shapes to fit every budget. Wide feet don't have to mean bulky, boring shoes and many labels are now offering their iconic styles in wider options.
Stop sizing up, which only causes discomfort, and instead measure your feet and learn exactly what width you need. Not all wide feet are built the same, so learn your proper size and finally find comfort in a shoe that feels like it was truly built for you.
Criteria Used to Evaluate the Best Shoes for Wide Feet
Width Options
When you are out shopping for shoes for your wide feet, you might be confused as to what all of the letters stand for. Unfortunately, many shoe manufacturers use letters that seem to be completely random and it can be hard to find a shoe that is wide enough for your feet. You will find below a list of the most commonly used sizing indicators.
Men's Widths:
AA – the narrowest of all the shoe sizes available. If you have wide feet, you would do well to avoid any shoe that has the double-A following the shoe size.
B – any shoe with a B following the shoe size is narrow.
C/N – any shoe with a C or an N following the shoe size is also narrow, but not as narrow as shoes marked with a B.
D/M – shoes marked with a D or M are average or medium sized shoes. They aren't especially narrow or very wide.
E/W – shoes marked with an E or a W are wide sized shoes.
EE – also known as 2E shoes, these shoes are wider than E/W shoes.
EEEE – these shoes are also called 4E shoes and they are even wider than 2E shoes.
EEEEEE – these shoes are called 6E shoes and they are the widest option available.
Women's Widths:
AA – the double-A in women's shoes is, like in the list above, the narrowest option available. It's best to avoid an AA when you're out looking for a new shoe.
B/M – the B or M size in a woman's shoe is a medium or average width. For wide feet, it's best to avoid these shoes, as well.
D – the D next to the shoe size indicates that this shoe is wide.
EE – the double E shoe is extra wide.
Children's Widths:
M – the M in a children's shoe represents an average or medium width shoe. If your child has a wide foot, it would be best not to get them a shoe in this size.
W – a children's shoe with a W next to the shoe size is a wide shoe.
XW – when the size is followed by XW, the shoe is an extra wide shoe.
Measuring Your Correct Shoe Size
You can determine your shoe size by trying on a number of different shoes to find one that fits "just right," which means that your feet are perfectly aligned with the footbed and aren't pressing against the sides of the shoe.
Do not buy a new pair of shoes that feel too tight and hope that they will stretch out. You will only do damage to your feet, as the shoes will not stretch enough.
If you are looking for a more precise way to determine your shoe size, perhaps because you plan on shopping online for shoes and cannot try them on first, here is how you can measure your feet:
You will need the following materials to measure your feet:

Legal size paper

A pencil

Tape Measure (or if you don't have a tape measure, a ruler can work, but it's not recommended)

Wear the socks or hose that you intend to wear with your shoes or that you most regularly use when you go to trace your feet. Always trace your feet in the evening, because feet naturally swell a little as the day goes on.

Place a piece of legal size paper on the floor and sit in a chair behind it.

Place your foot on the paper. Don't stretch or flex or do anything unnatural. Just place your foot on the paper as if you were just sitting with your feet on the floor. Relax.

Trace your foot with the pencil, but be sure to keep the pencil perpendicular to the paper the entire time. Don't bother with tracing between all of your toes. Just make sure you go around the front of your toes to make a sketch of your whole foot.

Measure the distance from the end of your heel to the tip of your longest toe. Write this number down and then subtract a quarter of an inch or half a centimeter from the figure you came up with- this accounts for the pencil's width.

Measure the width of the ball of your foot and mark down this number. Subtract a quarter of an inch or half a centimeter from this number as well.

Flip the paper over and repeat the above steps so that you have measurements for both of your feet.

This

website

has a chart that you can use to determine your size by converting your measurements into common shoe sizes.
To determine the appropriate width for your feet, take the measurement you made earlier of the ball of your foot, which will tell you how wide your feet are. Compare the width you came up with to the sizes in the chart on the same site.
Why You Should Care About Finding Wide Enough Shoes
It can be easy to just throw your hands up in the air and say "I quit! I can't find a shoe that fits me properly and this shoe fits well enough! I'm just going to buy this shoe and hope for the best!" However, choosing to settle for a shoe that is too narrow for your feet can lead to serious medical complications and conditions.
Pain & Discomfort
Your feet should not hurt. If they are, then something is wrong somewhere. Either your shoes are too tight or you have an injury. Either way, continuing to wear shoes that are not wide enough for your feet will exacerbate any existing foot injury and will be incredibly uncomfortable. Remember that your feet and legs are your primary mode of transportation. You need them healthy and strong.
Bone Weakening
Believe it or not, wearing too tight shoes over a long period of time can cause the bones in your feet to weaken. This is a result of your toes and bones in your feet being squished together, which damages them.
Lower Back Pain
If you have been wearing shoes that are too tight, perhaps you have noticed that your lower back has been aching. The unsuspected culprit? Your too tight shoes. The squeezing of the bones in your feet allows more impact to glide up your legs and into your lower back. Your natural gait and posture are affected and this can lead to permanent damage to your back.
Bunions
A bunion is a bony growth on the side of your big toe's joint that is painful and may cause calluses to form. A bunion is tender and forms when you wear too tight shoes regularly. If you have already formed a bunion, then wearing wider shoes will help manage the discomfort it causes.
Morton's Neuroma
Nerves allow us to feel things, painful and not. Tissues cover these nerves to protect them. When you develop Morton's Neuroma, one or more of those tissues covering nerves swells and thickens, which causes pain and discomfort in the ball of your foot. To prevent Morton's Neuroma, it is recommended that you wear shoes with wide toe boxes and that otherwise fit properly.
Hammertoes
When your toes are squished together in your too-tight shoes, pressure is put on the muscles and ligaments in the toes. This added pressure creates an imbalance that causes the joint in the middle of each toe to lock up. Hammertoes can result in other serious complications, such as ulcers and infections of the toes. The best way to avoid these things is to wear shoes that are wide enough to accommodate your feet.
Other Toe Deformities
You may also develop a clawed toe, a mallet toe, an Adductovarus toe, or a curly toe from wearing shoes that are too tight. These toe deformities are physically uncomfortable in your shoes and to walk on, but they are also embarrassing as they worsen over time.
If you don't take action and invest in properly fitting wide shoes, the only recourse to correct these deformities years down the line may be surgery.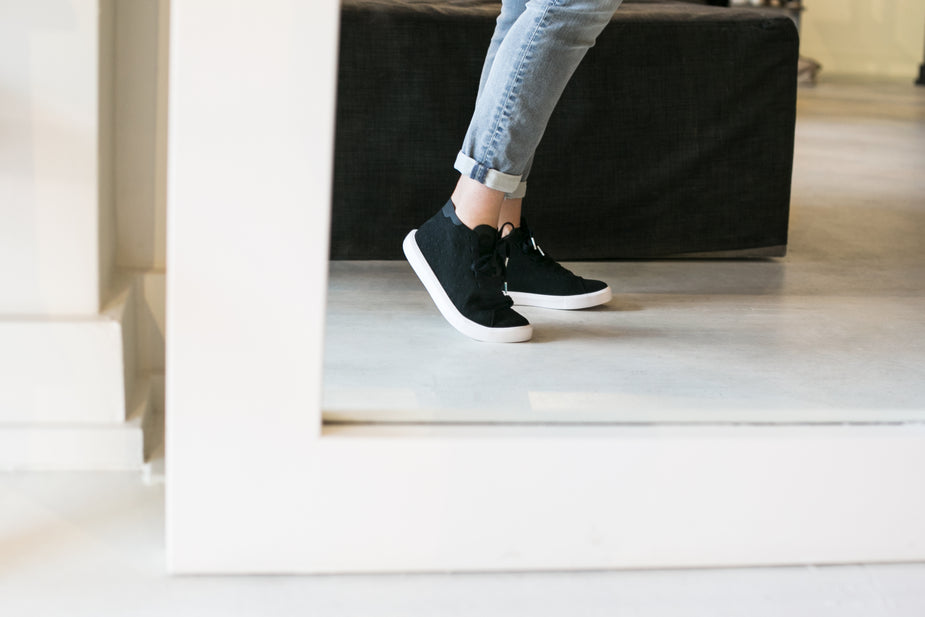 Flexibility of the Upper
While shopping for a wide shoe, you should consider the upper construction of the shoe before you buy. Why? A stiff, leather upper won't flex with your movements and becomes a painful, albeit stylish cage. As such, you should look for flexible, durable materials in the upper construction of your shoe. A breathable, stretchy mesh is best, as it will flex and mold to your foot's shape and movements. However, an upper consisting entirely of mesh will have little upper support. You should take into account the environment you will be wearing the shoes in. If it's an athletic environment, you may want to consider a mesh upper with leather or synthetic overlays for support.
Any material in a shoe that is stiff or tight will not flex or stretch with your foot as you move and that makes for a painful experience for anyone, especially people with wide feet.
Support
Some people need more support built into their shoe than others. However, everyone should consider the supportive features of a wide-size shoe before they make a purchase. You should consider the height of your arches, the strength of your ankles, and your normal gait as you look into buying your wide-sized shoe.
A person with flat feet would not benefit from wearing a shoe designed to support someone with high arches. Similarly, a shoe designed for a person with flat feet would not benefit someone with high arches. Someone with weaker ankles or who are prone to rolling their ankles while they're out would benefit from a shoe with a higher ankle.
Some features that you should look into as you are shopping for a sufficiently supportive wide shoe are as follows:
Upper Construction

– Leather or synthetic overlays offer more support to your whole foot than simple mesh designs.

Insole Properties

– Some insoles are designed to not only cushion your feet but also to support your arches and forefoot.

Midsole Properties – Some midsoles, similarly, are designed to cushion and support. Midsole caps in the heel, in particular, create a strong stabilizing effect.
Outsole Construction and Design – A good outsole is sturdy enough to support your feet but also flexible enough to bend with your foot's natural movement. Otherwise, you could find yourself in pain at the end of the day.
Ultimately, you will need to determine how much support you need and desire for your feet before you buy and then consider what you are willing to sacrifice to get that support, if necessary. Many shoes today come with plenty of support and cushioning for ample comfort and safety.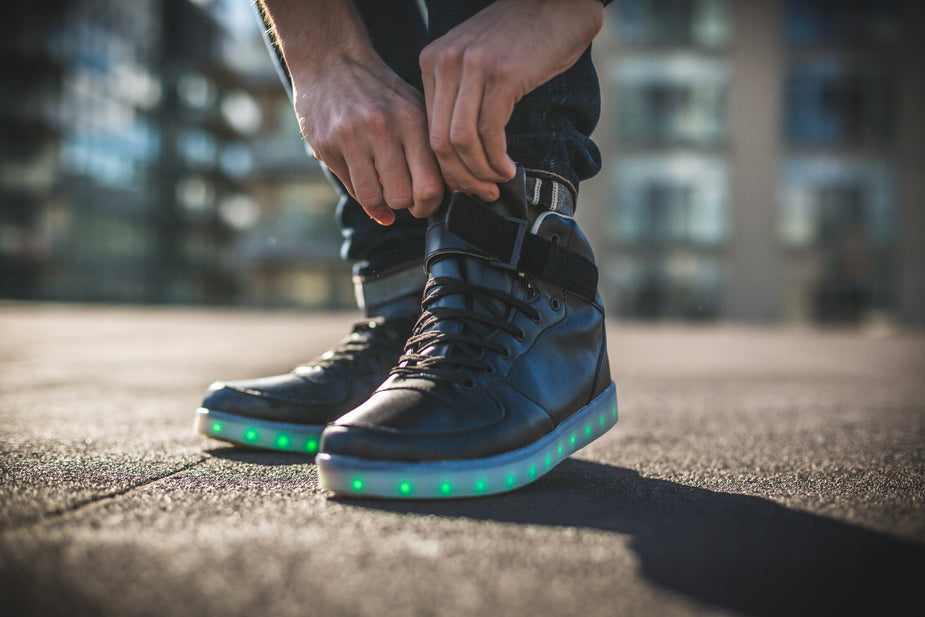 Cushioning and Comfort
You need your wide size shoe to be comfortable, or else what is the point of having them? You could just as easily wear a tighter, narrower shoe, but why suffer when you can have the comfort of a well-cushioned, well-designed wide shoe?
Many shoes come with insoles, midsoles, and outsoles built with maximum cushioning in mind, but just as many lean more towards being stability shoes with minimal cushioning and others rest somewhere in the middle. In the end, you must decide how much cushioning you want and need in your wide shoes to make your walk, run, or work more comfortably.
Cushioning and Padding Placements:
Tongue

– A padded tongue can be a boon to your upper foot. It protects your foot from painful rubbing. Plus, it's soft and absorbs impact!

Padded Ankle

– A padded ankle protects your ankles from abrasive rubbing with each step. An insufficiently padded ankle can cause pain and injury.

Insole

– A good insole has sufficient cushioning for your whole foot from heel to toes. Some shoes come with specialized forefoot and rearfoot cushioning while others come with more cushioning and support in the arch area.

Midsole – Some midsoles come with more cushioning capabilities than others. Some midsoles are designed with a focus on stability rather than comfort.
Outsole – You want your outsole to be sturdy, but you also need it to absorb shock well. Otherwise, you'll be stuck with a pair of shoes that feel like running with wooden boards strapped to your feet.
Removable Insoles
If you require custom insoles for your feet, then you need to look for wide shoes which have removable insoles. Sometimes, the insoles already installed in wide shoes aren't sufficient in terms of cushioning and/or support and you need a custom insert. Many shoes do not come with removable insoles, so this is definitely something you will want to consider before you make a purchase.
Closure Style
There is no point to buying a wide size shoe if the opening is too small to get your foot in. Either the upper needs to be stretchy and flexible, the opening needs to be large enough to slip your foot in, or the opening needs to have some type of closure. If you have a knee-high boot, for example, you will need the boot's upper to be flexible enough to allow your foot to slide in and bend to go into the foot area.
The most common closure styles that lend themselves to wide shoes are as follows:
Lace-Up
This is one of the most prevalent closure styles and it's used in athletic shoes as well as work shoes. With a lace-up shoe, you can stretch the mouth and tongue of the shoe to accommodate the entry of your foot and then tie the shoe closed around it. It can be a great, secure fit, but generally, office work prohibits this type of closure unless it's in a lace-up loafer or something similar.
Velcro Strap
Like the lace-up closure, the Velcro strap can be adjusted to fit your foot more securely after stretching the mouth of the shoe enough to get your foot in. This closure style gets a little flack sometimes, but it's easier than stopping to tie and re-tie your shoes.
Hook-and-Loop Buckle
This style of closure generally does not get used in athletic shoes, but it's common in office and casual dress shoes. The strap closing the shoe over your foot acts like a belt around your waist and hooks into a belt-buckle style fastener. Generally, the material in the shoe's upper construction is flexible enough to accommodate the stretching that is required to slide your foot in and then fasten it.
Zip-Up
The zip-up closure is what makes shin, calf, and knee-high boots easier for anyone to wear, but especially for people who have wide feet. The zipper usually starts at the side of the foot, so the opening is large enough to slip your foot in. When you zip the boot or shoe up, it results in a secure fit so your boots don't come flying off.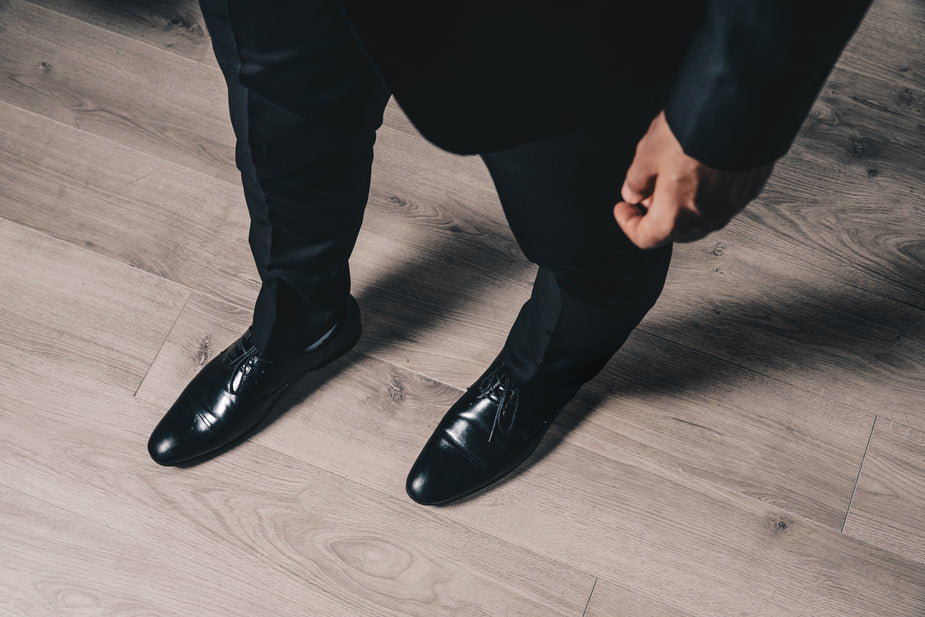 Intended Purpose
When you are looking for the best pair of wide shoes for you, you will naturally have to consider the environment that you are purchasing the shoes for. In the past, it was really difficult to find a pair of wide enough shoes, but today it's much easier. There is a wide range of shoe sizes in a wide range of shoe styles. You need to consider what the purpose of the shoe is before you purchase one.
Work Shoes
Work shoes vary by profession and style. If you are a construction worker, you will need a sturdy work boot with a steel toe – a straightforward fact. However, many other professions have much vaguer needs. If you are a waiter or waitress in a small town restaurant, you could probably get by with wearing a pair of nice black sneakers. However, if you are working in a high-class fancy restaurant, you probably have to wear some sort of formal work shoe. An office worker would need a nice dress flat, loafer, or high heel unless it's a very casual workplace. Ultimately, you know what aspects your shoe needs for your work environment to be safe and effective and this needs to be taken into account before you make your purchase.
Athletic Shoes
Many athletic shoes can be used for casual purposes, but to preserve the longevity of your shoes, it's best that you only use your athletic shoes for athletics. Similarly, some athletic shoes, such as rugby boots or soccer cleats, are really only suited for the sport they were designed for. When you are shopping for your ideal wide sized athletic shoe, you will need to take into account the type of physical activity you will be participating in and what features your shoe will need in order to give you the most comfort and safety.
Casual Shoes
Sometimes you can get lucky and your casual shoes can also double as work or athletic shoes, but other times you need something different, such as a comfortable sandal or a cute dress shoe you can't wear to work or on the ballfield. When you are selecting a casual wide width shoe, however, you still need to take into account the kinds of activities you will be participating in while you're wearing them. It's unwise, for example, to wear a tall platform sandal when you're going to be on your feet all day walking around the city. It would be uncomfortable to wear a sneaker when you're at the beach seeing that a flip-flop or another style of sandal would be best suited for that.
Value & Durability
All of the above-mentioned traits are worthless in the end if your shoe falls apart after one walk, run, or day at the office. When you are shopping for your new wide size shoes, you need to consider the durability of the shoe and to do that, you need to consider what it's made of.
The most durable materials used in shoes are rubber and leather. Synthetics and meshes are the least durable and are prone to ripping and tearing, though some are better than others.
Always do your research into the shoe you want to purchase to confirm that the shoes are consistently high quality, long lasting, and wide enough.
Frequently Asked Questions
Q: What is the most important thing to look for in wide shoes?
A: The most important thing you need to consider when making a shoe purchase is the fit. Make sure that the shoes are wide enough to accommodate your feet without any squeezing, pinching or rubbing in order to avoid pain, discomfort or even injury.
Q: What if I have high arches? Is there a wide shoe for my high arches?
A: Yes! It may take a little more effort to find a shoe that is a wide size and also provides adequate support for your high arches, but it can be done. For more supportive shoes, look for firmer materials in the design of the shoe and for responsive cushioning.
Q: Why do I need shoes specially designed for my wide feet?
A: Wearing too tight shoes will result over time in serious medical conditions on top of being very uncomfortable and painful. Some of those medical conditions include hammertoes, Morton's Neuroma, bunions, and other toe deformities.
Q: Where can I buy wide shoes?
A: Any place that sells shoes on or offline should have shoes for wide feet. If you're having trouble finding them, ask a salesperson or check the reviews and frequently asked questions on the product page.
Q: Do I have to sacrifice comfort and durability to get a pair of wide shoes?
A: Nope! Shoe manufacturing technology has come a long way. Today, you can get a well-cushioned, durable, and supportive pair of shoes in just about any size and width that you need!
Sources